June 2021: Rachel's brain artwork was featured as an invited artist to OHBM's BrainArt exhibit during the 2021 Annual Meeting of the OHBM and one of her pieces was chosen for publication in one of their journal articles.
June 2021: Youjin presented her poster titled "White matter hyperintensities and APOE affect the association between blood pressure and cognition" at the Annual Beyond Amyloid Research Symposium and won the Poster Award at the Graduate Level.
October 2020: Ray defended his dissertation, "Trajectories of Functional and Structural Brain Changes in Subjective Cognitive Decline" with flying colors. Congratulations Dr. Raymond Viviano!
December 2020: Our lab had a virtual joint holiday party with Ofen Lab!
May 2018: Ray presented his work at the 2018 Cognitive Aging Conference in Atlanta.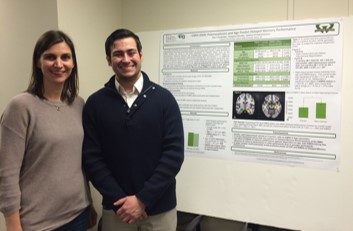 March 2017: Zac presented his poster titled, "KIBRA Allelic Polymorphisms and Age Predict Delayed Memory Performance," at the Psychology Department's poster day.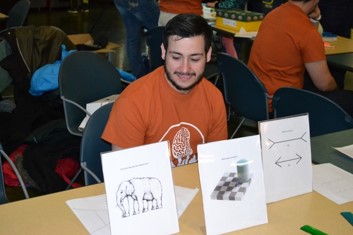 March 2017: Our lab attended the Brain Day 2017!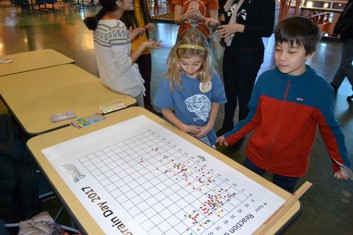 March 2017: At the Brain Day event, our lab was a part of the Lifespan Neuroscience station, which provided activities about memory, optical illusions, reaction time, and MRI.
June 2016: Ray presnted his poster titled, "Resting State Functional Connectivity Dynamics in Healthy Aging" at the 22nd Annual Meeting of the OHBM.
June 2016: Dr. Damoiseaux presented her latest research findings at the 22nd Annual Meeting of the OHBM.
July 2016: Jessica presented her poster titled "Subjective Memory Complaints are Associated with Brain Activation Supporting Successful Memory Encoding" at the 2016 Alzheimer's Imaging Consortium
March 2016: We attended the 2016 Brain Day held at the Michigan Science Center to educate the public on brain sciences!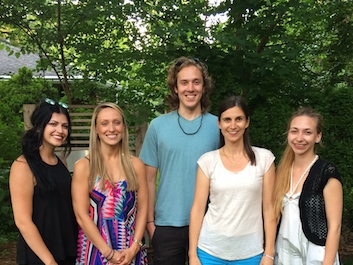 July 2016: We gathered at Dr. Damoiseaux's home for a summer BBQ.
July 2016: Lots of laughs at the lab BBQ!
March 2016: Cindy won the BCN, Cognitive and Developmental area award with her poster titled "Association of Hippocampal Anatomy and Subjective Memory Complaints" at the 15th Annual Rodney Clark Memorial Poster Day
April 2016: Riana presented her poster at the College of Liberal Arts and Sciences Undergraduate Research Fair and won an award for her work on "Hippocampal Volume Difference between Yoga Experts and Non-experts."
June 2015: Dr. Damoiseaux presented our work during a workshop organized by her and Dr. Lucina Uddin titled, "Tracking disease trajectories and identifying brain-based markers to characterize mental illness" at the 21th Annual Meeting of the OHBM.
June 2015: We provided educational information to the community at the events put on by the Healthier Black Elders Center (HBEC), the Institute of Gerontology, and local senior centers.
March 2015: Dr. Fahd Syed attended the American Association for Geriatric Psychiatry's Annual Meeting and shared his work on how personality and mood relate to subjective cognitive complaints.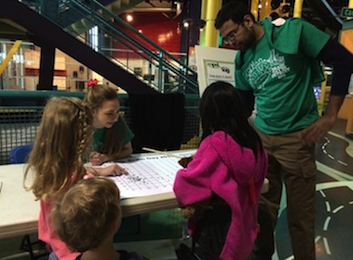 March 2015: We attended Brain Day 2015!
March 2015: Members of the Connect Lab are guiding kids through memory and reaction time tasks.
Jan 2015: We had a holiday lab party. The Connect Lab would like to wish everyone a happy and healthy 2015!