Summer 2016
In June Dr. Damoiseaux and graduate student Ray Viviano traveled to Geneva, Switzerland to attend the 22nd Annual Meeting of the Organization for Human Brain Mapping (OHBM). They participated in the conference's poster session where they had the opportunity to present their latest research findings. Ray is pictured on the left below discussing his poster about "Resting State Functional Connectivity Dynamics in Healthy Aging" with a fellow attendee. Dr. Damoiseaux, pictured on the right below, presented a poster about how "Subjective Cognitive Impairment is Associated with Greater White Matter Hyperintensity Volume."
In addition to presenting this poster at OHBM, Dr. Damoiseaux also presented these findings at the Alzheimer's Imaging Consortium, a preconference for the Alzheimer's Association International Conference, which was held in Toronto during late July. Research assistant Jessica Hayes also attended this conference and presented her poster titled "Subjective Memory Complaints are Associated with Brain Activation Supporting Successful Memory Encoding" (pictured to the left).
Summer is also a time to unwind and enjoy the beautiful Michigan weather! Members of the lab gathered at Dr. Damoiseaux's home in early July for a summer BBQ with delicious food and many laughs.
Spring 2016
The Connect Lab would like to give a warm welcome to new student assistants, Zac Fernandez and Greg Norville. We are excited for them to join the team and start training in administering neuropsychological assessments and processing imaging data.

The spring months were filled with various outreach events. Once again the Connect Lab attended the annual Brain Day event held at the Michigan Science Center to educate the public on brain sciences. In early June Dr. Damoiseaux was a featured speaker for one of the HBEC's Lunch n' Learn events where she spoke about brain changes that occur during aging and attempts to diagnosis Alzheimer's disease earlier on. Additionally, lab members Veronica Archer, Jessica Hayes, and Cindy Temali have visited several senior centers across Metro Detroit to educate seniors on abnormal and normal changes in cognition and the brain that occur during aging.


Many Connect Lab members had the opportunity to present their research projects at university events this spring. Graduate student Ray Viviano shared his research on dynamic functional connectivity at the poster session of the Translational Neuroscience Program Symposium and Research Day. Student assistants Riana Ura and Cindy Temali participated in the Psychology Department's 15th Annual Rodney Clark Memorial Poster Day on March 24th. Cindy won the BCN, Cognitive and Developmental area award with her poster titled "Association of Hippocampal Anatomy and Subjective Memory Complaints." Riana also presented her poster at the College of Liberal Arts and Sciences Undergraduate Research Fair on April 22nd and won an award for her work on "Hippocampal Volume Difference between Yoga Experts and Non-experts." Congratulations to Cindy and Riana!
Winter 2016
Warm wishes for a happy 2016 to all!

Excitement is in the air as we approach the time for our first follow-up appointments. While we would like to thank all of our participants who have been involved in the study thus far, an important aspect of our study is to track changes in the brain and cognition over time, so we would like to offer special thanks to those who have already agreed to return for their second visits.

Although we are beginning with follow-up appointments, we are still looking to recruit new individuals with concerning memory complaints to our study. If you, or anyone you know, is interested in participating please check out our Participate page!

Some of our initial results have already been submitted as abstracts for the 2016 Annual Meeting of the Organization for Human Brain Mapping and the 2016 Alzheimer's Association International Conference held later this year. Our undergraduate assistants, Riana Ura and Cindy Temali, are now busy preparing abstracts to submit to Wayne State University's upcoming Rodney Clark Undergraduate Poster Day in March.
Fall 2015
While recruitment and data collection continued through the early fall months, the focus has slowly shifted to analysis for the Connect Lab. The results from these cross-sectional analyses will be submitted to some upcoming conferences in 2016. We are excited to see what we find and to have the opportunity to share this with others!

We have welcomed two more assistants, Cindy Temali, a current student at Wayne State University, and Joseph Ostrow, a recent graduate from University of Michigan, to the Connect Lab. They have been keeping busy assisting with recruitment, screening, and learning to conduct cognitive testing sessions.
Summer 2015
As we have moved from spring into summer the Connect Lab has continued to be busy with presentation. In June Dr. Damoiseaux attended the annual meeting of the Organization for Human Brain Mapping. She presented our work during a morning workshop organized by her and Dr. Uddin of the University of Miami titled: "Tracking disease trajectories and identifying brain-based markers to characterize mental illness."
Recruitment and outreach has been another main focus for the Connect Lab as we are trying to meet our initial goal for participation. We have maintained a presence in the community by attending events put on by the Healthier Black Elders Center (HBEC), the Institute of Gerontology, and local senior centers. These events have given us the opportunity to provide educational information to the community as well as provide details on how to become involved with our ongoing study. One such instance is when lab members Kalyan and Jessica gave a brief talk at one of the HBEC's recent Lunch n' Learn events where they spoke with the community about normal and abnormal brain changes during aging.


The Connect Lab has once again grown in size as we welcome Veronica Archer and Riana Ura to the team. Veronica, a doctoral student in clinical psychology at Central Michigan University, is currently busy conducting analyses on data obtained from personality measures and neuropsychological assessments. We look forward to seeing what this data shows! Riana is our newest student assistant and is involved with recruitment, screening, and data collection thus far.
Spring 2015
The Connect Lab is looking forward to the warm weather (eventually) coming our way! Data acquisition is still moving along; these past couple of months saw us collect data from many new participants. Data is not all that the lab has been focused on though; Spring has also been a busy month for presentation and outreach. Dr. Fahd Syed gave an outstanding presentation this past March at the American Association for Geriatric Psychiatry's 2015 Annual Meeting in New Orleans, Louisiana. The presentation focused on how personality and mood indices relate to subjective cognitive complaints. Brain Day 2015, which was held at the Michigan Science Center, was also attended by the Connect Lab this past March. Brain Day is a part of Brain Awareness Week, which is a global campaign to engage the public in the progress of brain research and increase awareness of the brain sciences in general. In the photos below you can see members of the Connect Lab guiding kids through memory and reaction time tasks to help explain neuroscientific concepts. You can read more about the event here.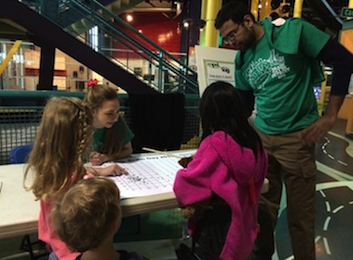 Winter 2015
The Connect Lab would like to wish everyone a happy and healthy 2015! This past year has been busy and productive; we hope that the future ahead is the same.
2014 Recap Last Spring brought about the introduction of many new lab members. Kalyan Yarraguntla has joined the lab, having previously worked under Dr. John Levine M.D. Ph.D. in Boston; he has been an asset in participant recruitment, participant screening, data collection, and data analysis thus far. Student assistants Jesse Riojas and Jessica Hayes also joined the lab this past year and have been exceptionally helpful in data organization, preprocessing, and collection. The lab also welcomed Dr. Fahd Syed, a Geriatric Psychiatry Fellow, to the team this past Fall. Additionally, this past Fall saw us break ground in MRI and neuropsychological data collection. We have now run over twenty participants at Wayne State and roughly the same number in the Netherlands; initial cross sectional analyses are underway. We are excited as to what we can discover from this data! Unfortunately we haven't recruited many individuals with subjective memory complaints but hope to have participants from this subject population reach out to us in the future. This Fall also saw the beginning of a collaboration between Dr. Neha Gothe and Dr. Damoiseaux. Dr. Gothe is interested in a pilot study to assess the biophysical differences between Yoga experts and non-experts. The Connect Lab will provide support for the structural and functional analysis of MRI data that will be collected. We are very excited about this collaboration opportunity.
Spring 2014
The Connect Lab welcomes Kalyan Yarraguntla to the research team.
Summer 2013
The Connect Lab welcomes Ray Viviano to the research team.
Spring 2013
Dr. Damoiseaux starts her assistant professorship at WSU!
Dr. Damoiseaux is featured in the IOG spring newletter. PDF